As part of the deal that landed Amazon in Arlington, Alexandria will become the new home of Virginia Tech graduate school. How will the Innovation Campus at the current Potomac Yard movie theater reshape the city?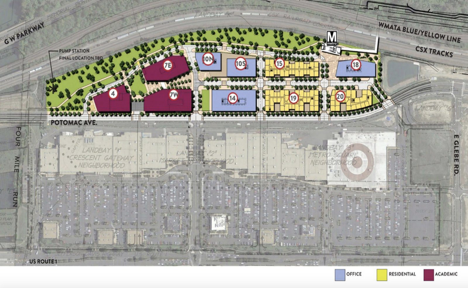 Virginia Tech announced plans to build its new Innovation Campus one year ago, as part of the state's successful bid to attract Amazon to the region. The campus will be located in the Alexandria portion of "National Landing" near Potomac Yard, about two miles from Amazon's new location in Arlington.
The Virginia Tech Innovation Campus will triple the university's footprint in Northern Virginia and will be a magnet for leading tech talent, research, and education. It will include:
300,000 square feet of academic space and cutting-edge research-and -development facilities.
250,000 square feet of partner space dedicated to startups and corporate facilities.
350,000 square feet of housing space for students and faculty.
100,000 square feet of retail and support spaces.
Sara Hooshangi has been named the director of the VT Innovation Campus. She comes from George Washington University.
This $1 billion Innovation Campus will make its home in three academic buildings as part of the first phase of a new North Potomac Yard mixed-use development in Alexandria, according to a Concept 1 site plan filed November 1, 2019 with the city.
The university seeks to engage with the community and create a vibrant sense of place where creativity and collaboration can flourish. Plan details are still developing and input on community topics, from residence to retail to parking and design, are helpful inputs. Come and join the conversation as this exciting project becomes an important part of Alexandria's future.
Current panelists include:
Mr. Bob Wood, Moderator, Agenda Alexandria Board Member
Mr. Amol Vaidya, Potomac Yards Residents Association
Mr. David Baker, Assistant Director of Government and Community Relations, Virginia Tech
Mr. Ryan Touhill, Chief of Staff, Alexandria Economic Development Partnership
Ms. Bailey Edelson, Development Senior Vice President, JBG Smith
Where: Salvation Army, 1804 Mt Vernon Ave, Alexandria, VA 22301
When: Monday, Jan. 27, 2020
Time: Reception starts at 6:30 pm, program starts at 7:15 pm